---
How to choose a hotel for your visit
MAISON&OBJET
---
Planning to visit the MAISON&OBJET show but don't yet know which district and hotel to choose? Myboutiquehotel, the number one boutique hotel booking site for 10 years, gives you some tips to help you make the right choice. 
 
---
Where is the MAISON&OBJET show? 
MAISON&OBJET is located at the Paris Nord Villepinte Exhibition Park, 8 km from Roissy CDG Airport and 24 km from the center of Paris. So do you prefer a boutique hotel in Paris or Villepinte? 
Want to stay in Paris?
You can choose to get to the show by public transport (RER trains) or taxi.  In the first case, we advise you to choose a hotel close to the RER B line that will take you directly to the show in less than 40 minutes.  (See the RER map here) 
The first stop on the RER B: "Gare du Nord" 
In this popular and bustling area, we recommend the 25Hours, the new OKO Hotel at the Gare de l'Est, or the Whistler. Walk 10 to 15 minutes south and discover our selection of boutique hotels in the vibrant Grands Boulevards or trendy Rue des Martyrs.  
Our favourites: 
Chic: Parister or Hôtel de Nell, 
Trendy: Grands Boulevards or Panache, 
Budget: Montholon, 9Hotel Opera. 
Next stop: "Châtelet"
You are in the centre of Paris a short walk from the trendy areas of Montorgueil, the Marais or the Louvre. 
Our favourites:
Chic: Maison Albar at Chatelet,
Trendy: Hôtel Bachaumont, Hôtel National Arts et Métiers, or Les Bains Douches. 
> SEE MORE PARIS MARAIS HOTELS
> SEE PARIS 1ST ARRONDISSEMENT HOTELS 
Next stop, the Left Bank: "Saint-Michel – Notre-Dame" 
A typical and authentic quarter of Paris, for a more romantic stay. Also, a few steps away is the district of St Germain des Prés.
Our favourite boutique hotels:
Chic and Luxurious: the Relais Christine, Hôtel Bel Ami, Hôtel Recamier;
Trendy: Hôtel Montana, Hôtel Da Vinci.
>SEE ST GERMAIN DES PRES HOTELS
If you prefer a taxi or a chauffeur-driven car to get to the show, our choice of hotels in Paris is more varied: 
For a visit to the next MAISON&OBJET, we recommend five absolute favourite boutique hotels: they have just opened, they are trendy, they are glamorous and chic, or a safe bet. 
The Hôtel Parister towards the Grands Boulevards, the very fashionable new luxury hotel Sinner in the Marais, and the Mama Shelter decorated by Philippe Starck, located at the Porte de Bagnolet, offers very direct highway access to Villepinte.  Finally, the Royal Monceau Palace or the Hôtel de Nell, a discreet luxury boutique hotel in the centre of Paris.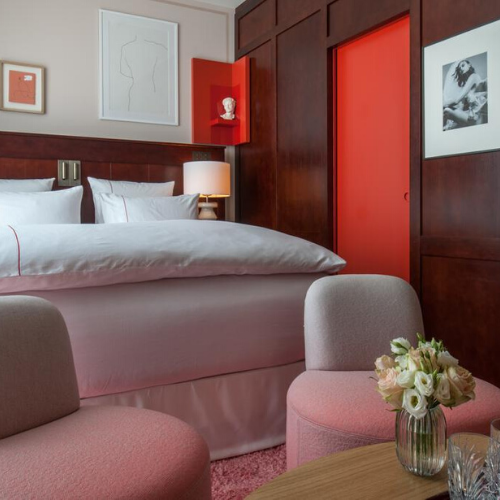 ---
Want a hotel near Villepinte? 
Near the airport or Villepinte, we recommend the citizenM, an original concept hotel, very design-conscious, at a reasonable price. If you prefer to book a more traditional hotel check out our partner's selection. Click here 
And if you don't have time to look for your hotel,
please send us your request, your dates, and your budget, and we will select three hotels for your stay.